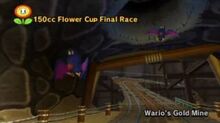 Wario's Gold Mine
, the fourth and final race in
Flower Cup
, takes place in an industrial mine at sunset, with mine carts endlessly taking gold from one place to another. 
Shortcut
Inside the mine, after the first launch pad, the player must follow the mine carts into a small tunnel, with a gap, and inside there will be three dash panels and two Item Boxes.
History
Internal Links
Wario's Gold Mine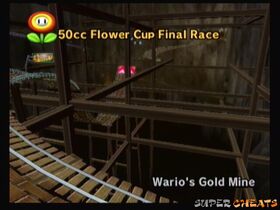 Course Information
The final race in Flower Cup.
Courses
Other Information