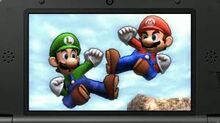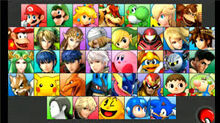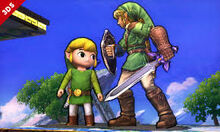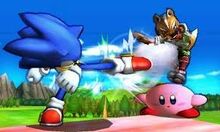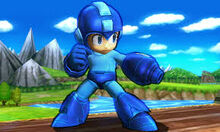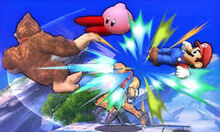 Super Smash Bros. for Nintendo 3DS is a game for the 3DS. It is the fourth Super Smash Bros. game, and the first handheld one. It was released earlier than its partner game, Super Smash Bros. U. The 3DS can be used as a controller for Super Smash Bros. U. The modes are customization/cross-connectivity, smash run, streetsmash, classic, all-star, training, stadium, vault, trophies, and challenges. The playable characters are Mario, Luigi, Peach, Yoshi, Bowser, Rosalina and Luma, Donkey Kong, Diddy Kong, Link, Zelda, Sheik, Toon Link, Samus, Zero Suit Samus, Pit, Palutena, Marth, Ike, Robin, Kirby, King Dedede, Meta Knight, Little Mac, Fox, Pikachu, Charizard, Lucario, Greninja, Captain Falco, Villager, Olimar, Wii Fit Trainer, Shulk, Pac-Man, Mega Man, Sonic, Ness, Falco, Wario, Lucina, Dark Pit, Dr. Mario, R.O.B, Ganondorf, Mr. Game and Watch, Bowser Jr., Duck Hunt, Jigglypuff, Mewtwo, Lucas, Roy, Ryu, Mii Brawler, Mii Sword Fighter, and Mii Brawler.
Community content is available under
CC-BY-SA
unless otherwise noted.