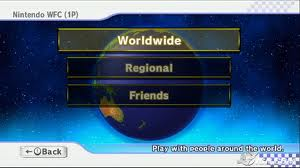 Nintendo WFC (WiFi Connection) is a new feature to the Mario Kart series, where you can race up to 11 other players around the world. Using Nintendo's Wi-Fi hookup capabilities, you can now race against your friends, anyone around the world, or even players from your own region, each from the comfort of your own home! Nintendo WFC is a fun, competitive way to see how you rank up against other racers around the world by gaining VR (Versus Ranking) by doing well in races. You start with 5000 VR Points and can get up to a max of 9999 VR Points. There's also a thing called Friend Roster, which lets you play with friends. Unfortunately, the main downside of online play is that hackers come on to cheat and troll. Overall though, online play is one of the best parts of Mario Kart Wii!
Sadly though...
Sadly, Nintendo shut down wi-fi for the Wii, DS, and DSi in May of 2014. So you can no longer play online on Mario Kart Wii or any of the games for the Wii, DS, or DSi.
☀http://blog.sfgate.com/techchron/2014/02/27/nintendo-shutting-down-wifi-connection-on-wii-and-ds-in-may/
Community content is available under
CC-BY-SA
unless otherwise noted.