Mach Bike

Peach on the Mach Bike
Statistics
Size
Medium
Speed
55
Weight
37
Acceleration
24
Handling
32
Drift
62
Off-Road
27
Mini-Turbo
62
Unlocking
N/A

The Mach Bike is a Bike for Medium weight Characters that is very commonly used among players. It is modeled, and is a high level sports bike, with almost un-mach-able Speed, Drifting and Mini-Turbo statistics. The only problems with this bike are Acceleration, Off-Road, and Handling, three of the least important stats.
Description
This Bike is a bit smaller in terms of height compared to others in the game, so racers usually have to bend over instead of sitting upright like the usual. The Mach Bike's body is bulky and finely plated, and most of the machinery is covered underneath it. Towards the back is the exhaust near the wheels, and above the shock absorber is a small padded seat. The underside is very low to the ground, several inches from where the traction-full black tires reach the pavement, and the steering handles protrude right under the curved windshield, which is colorfully translucent and displays the character's emblem.
Color Schemes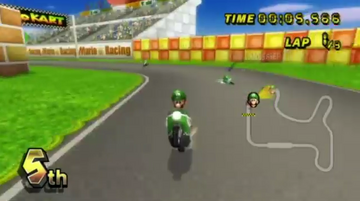 Statistics
Mario Kart Trivia
The newest addition to the series, Mario Kart 8, has a Kart named the Mach 8, but no resemblance to the Mach Bike.

The Sport Bike, especially the Princess Orange decal, bares a lot of resemblance to it, though.