A License is a private game file in Mario Kart Wii represented by the player's Mii. This lets them save their progress through the cups independently from other players who might want to try and beat all of the Grand Prixes.
Description
Setting Up
When a person is about to play Mario Kart Wii for the first time, they first must set up a License. You can choose in any of the four open slots to make one. The first and, really, the only step to setting up a new License is to choose a Mii. You can choose one that was created in the Mii Channel application, or, if none have been made, there are six pre-made Miis you can choose, named "Player".
Once the license has been set up, players are free to start racing to win trophies. It also sets up their friend code to play online matches with Nintendo Wi-Fi Connection (Although now it is canceled, sadly.)
License Description
On the License Select screen, four rectangular Licenses are displayed on the screen. If they are in use, the player's Mii will be on the top left corner of the card, next to their name. Underneath these is an icon of all cups and the three (later four) Engine Classes in the game. A grid of boxes lines up with these factors, and each time the player wins 3rd or higher, the cup's specific square on the license will be colored either bronze, silver, or gold (depending on place). This is helpful to see how far you are into the game, or unfortunately how low you are...
License Settings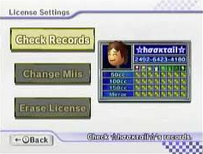 On this screen, players can check their stats throughout the races, opt to change the Mii using the License (Note: the Cups you won will still be saved if you switch Miis), or simply delete the License data altogether to make room for a new save file.
Mario Kart Wii Trivia
An actual driver's license permits people to legally drive on public roads. A Mario Kart Wii License permits people to drive on outrageously fun Tracks.
Mario Kart Wii is the first of only two Mario Karts to have separate game files, the other one being Mario Kart 8 (which utilizes Nintendo Network IDs, a new Wii U/3DS feature.