A Jump Pad is a platform that makes racers' Karts hop up into the air while giving them a very small but still noticeable boost.
Although they were common in Super Mario Kart and Mario Kart: Super Circuit, Boost pads have largely been replaced my slanted Boost Pads. Jump Pads now only appear in Mario Kart retro tracks, such as GBA Bowser Castle 3 in Mario Kart Wii.
Near the middle of this course, there is a line of five platforms floating on a sea of lava, with 5 Jump Pads to cross over. By doing Tricks, players can easily traverse this area. Alls they have to do is avoid the lava spurts and catch the Item Boxes instead.
Description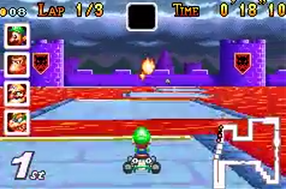 Stretching across the entire platform (about 10 feet long), Jump Pads look like golden bars that slant slightly upwards. Earlier versions of them were flatter and more dull yellow.
Mario Kart Wii Trivia
Super Mario Kart and Mario Kart: Super Circuit Jump Pads simply made your kart leap up into the air- it did not give you any added Speed.
Commonly mistaken for Boost Pads, Jump Pads can be distinguished into a different category by the characteristics and speed differences.