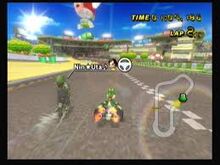 Expert Staff Ghosts are extremely good times set by the developers within the Time Trial mode. To unlock them, you must beat the Normal Staff Ghosts (no need to unlock) on Time Trial by several seconds, ranging from 3 seconds to as much as 10 seconds. They add an extra layer of challenge to the game, show some advanced strategies for stages (such as using the N64 Mario Raceway pipe as a trick ramp) and unlock additional karts and characters.
Unlockables
There are two types of unlockables that require beating a particular time - one is simply setting a time, and the other is by unlocking an Expert Staff Ghost. However, there are no unlockables for beating an Expert Staff Ghost. Note that you may need to restart the game once you have done the requirements for them to unlock. Time-based unlockables obtained by methods other than beating a given time are as follows:

The unlock times required are laid out in the table below
Community content is available under
CC-BY-SA
unless otherwise noted.